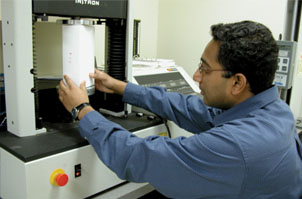 TESTING LAB
We offer you the services of one of the leading paperboard packaging and materials testing laboratories in the world.
Located at the RTS Packaging home office in Norcross, Georgia, our lab is a fully certified ISTA and NMFTA facility. In addition to paperboard testing, the lab is also equipped for basic corrugated tests including burst, ECT, flexure, flat crush and ring crush.
This state-of-the-art facility also performs package engineering and performance testing based on ASTM, DOT and ISTA test standards. Tests include glue bond, drop, vibration, incline impact, static and dynamic compression, coefficient of friction and abrasion. All tests can be performed under TAPPI conditions or under extremes of temperature and/or humidity.