6-Cell Options
Fold-over Glued / Fiber-A / Fiber-U
Based on the type of equipment used and line speed, we offer three options for larger volume, 6-cell applications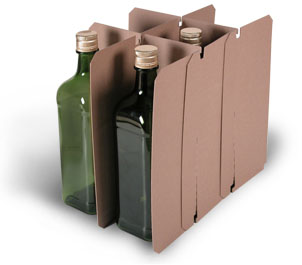 Fold Over Glued:
Fold over glued partitions have added side wall strip where the opposite strips are perforated, folded and glued, allowing the flexibility of hand insertion or free use of automated erection/insertion equipment. Fixed cells provide stability, keep strips from disassembling and eliminate movement within the carton and are available in 4-, 6- or 8-cell arrangements.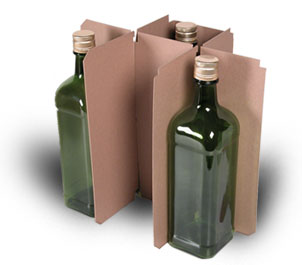 Fiber-A:
The Fiber-A consists of one long strip, perforated twice and intersected with a short strip creating a 6-cell partition which can be fixed to wall of container to prevent fall-out. It is shipped assembled to increase productivity and decrease labor costs when compared to similar corrugated products. This design is suitable for higher speed lines using automatic erection/inserting equipment.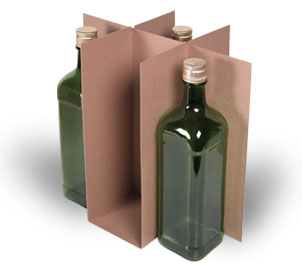 Fiber-U:
The Fiber-U consists of two strips, the longer of which sits on the bottom of the carton and folds upward where it is intersected by a shorter strip, creating a 6-cell partition. It is shipped unassembled and can be inserted using "U partition" erecting/inserting equipment.
Contact RTS Packaging to determine which design will work best in your application!