Construction
The durable 100 percent recycled solid fiberboard construction of Floor Protection Rolls qualifies for U.S. Green Building Council® LEED® points. This product is available in stock sizes or can be manufactured to your specific project requirements.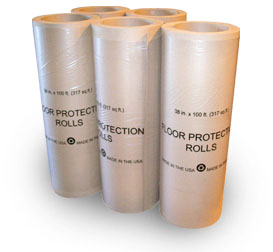 Floor Protection Rolls
Whether you are involved in commercial construction, residential construction or tenant improvement projects, RTS Packaging Floor Protection Rolls will eliminate costly repairs and allow you to keep your finished flooring in pristine condition through job completion.
The RTS Packaging Temporary Floor Protection Rolls provide cost effective, durable floor protection to finished wood, tile and concrete flooring. The product rolls out fast, lays flat and may be reused.
Stock roll sizes of 38" x 100' & 36" x 100' are available.
Download Brochure